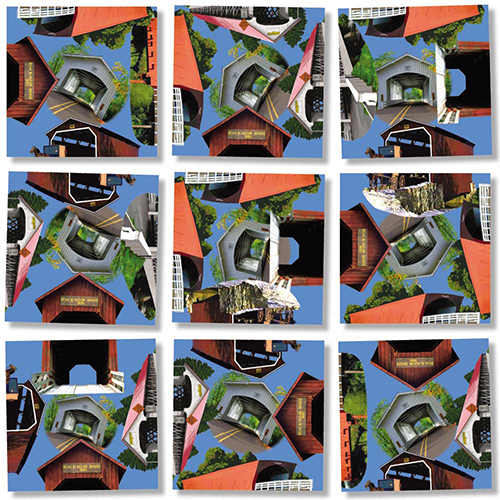 b. dazzle, inc. ANNOUNCES GROWTH SURGE, TWENTY NEW SCRAMBLE SQUARES® PUZZLE STYLES FOR 2005
REDONDO BEACH, CA…February 8, 2005… b. dazzle, inc. of Redondo Beach, California, has announced that the eleven year-old company's sales grew by more than 35% in 2004 and that it plans to introduce twenty (20) new styles of its enormously popular Scramble Squares® brain teaser puzzles in 2005. Included among the new styles, which will be released throughout the year, are "Alligators," "Antique Autos," "Cocktails," "Covered Bridges," "Ladies' Shoes," "Roses" and "San Antonio."

Exquisite, award winning Scramble Squares® brain teaser puzzles for ages 4 to 104 are at least as popular with adults, seniors, teenagers and college students as they are with children. Although each Scramble Squares® puzzle has only nine 4" x 4" pieces, Scramble Squares® puzzles are Perhaps the World's Most Challenging Puzzle™! At under $10.00 retail, Scramble Squares® puzzles make inexpensive, but highly entertaining and valued gifts for both men and women alike… for Father's Day, Mother's Day, birthdays, get well, graduation, travel and holidays. Scramble Squares® puzzles are Easy To Play, But Hard To Solve!™ Over one hundred exquisite styles of colorful original art are available on nature, sports, history, culture, geography, science, technology, occupations, fantasy, gourmet hobbies and activities, and more new styles are added every six months. Store displays come complete with the unique Scramble Squares® "5-Minute Challenge™" in store free puzzle giveaway promotion!
Scramble Squares® 9-piece brain teaser puzzles were honored in 2004 by The Institute for Childhood Resources in San Francisco as "Dr. Toy's SMART PLAY/SMART TOYS, the Best Smart Products for Baby to Older Children" and among "Dr. Toy's 10 BEST SOCIALLY RESPONSIBLE PRODUCTS" for 2004. Scramble Squares® received 10 of the 79 total "Dr. Toy's Smart Play/Smart Toys" awards bestowed by the Institute in 2004! 2004 is the third consecutive year that Scramble Squares® puzzles were honored as being among Dr. Toy's "100 BEST CHILDREN'S PRODUCTS." The GREAT AMERICAN TOY TEST, for its 25th Anniversary Awards, named 5 Scramble Squares® puzzles as among the best products for 2004 in its "Games & Puzzles" category, more awards than received by any other company.
The Scramble Squares® slogan, "Easy To Play, But Hard To Solve!™," is very accurate. Each Scramble Squares® has only one solution, and once a Scramble Squares® puzzle is solved, it is just as difficult to solve every other time it is played.
Each Scramble Squares® puzzle package includes a panel of fascinating factual information on the subject of the puzzle, as well as a trivia question and hidden answer, all packaged in a unique and handy heavy duty 101/2″ long x 53/4″ wide x 3/8″ deep resealable vinyl travel pouch, which may be collected and stored easily in a standard 3-ring binder. The vinyl pouch is crystal clear, enabling the consumer to see the extraordinary beauty of the puzzle's realistic original art, while achieving a very high amount of retail value per square foot of store space for the merchant.
Scramble Squares® teaches:
• Critical Thinking/Problem Solving Skills
• Patience
• Perseverance
• Statistical Probabilities
• Cooperative and Solitary Productivity

Scramble Squares® also helps maintain mental agility, sharpness and memory in seniors and adults, while providing hours of quiet and stimulating entertainment. The nine 4″ square puzzle pieces of a Scramble Squares® puzzle are easy to hold and easy to see, yet Scramble Squares® puzzles are as challenging as a one thousand piece jigsaw puzzle, but without the little pieces to lose or the mess all over the table.
b. dazzle provides a free 24″ x 36″ full color "WIN A FREE PUZZLE" promotional poster to any store offering its customers the Scramble Squares® "5–MINUTE CHALLENGE.™" Retailers can give a free Scramble Squares® puzzle to any customer who accepts the challenge and successfully solves the nine piece Scramble Squares® demonstration puzzle within five minutes. b. dazzle promptly replaces the stores' puzzles awarded to consumers at no cost to the merchants. b. dazzle's permanent wood counter, floor and slat wall displays each feature a demonstration puzzle on an interactive playing surface with an electronic timer to time consumers in the 5–MINUTE CHALLENGE.™ b. dazzle also offers a free, very compact, corrugated counter spinner display, including the timer and poster, with the purchase of any 72 Scramble Squares® puzzles in any quantity per style.
"Our company's mission is to produce a wide range of beautiful, wholesome, entertaining and informative gifts for under $10.00 retail for all ages of adults and children that can be selected by style to appeal to the personal interests of the gift recipient ," says b. dazzle founder, puzzle designer, president & CEO, Kathie Gavin.