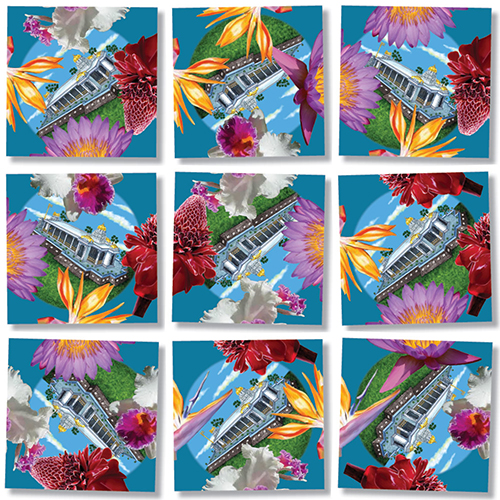 TEMPLE IN PARADISE SCRAMBLE SQUARES® PUZZLE RECEIVES "DR. TOY'S 10 BEST SOCIALLY RESPONSIBLE PRODUCTS AWARD FOR 2011" AND "DR. TOY'S BEST 100 CHILDREN'S PRODUCTS AWARD FOR 2011"
REDONDO BEACH, CA…September 7, 2011… b. dazzle, inc. of Redondo Beach, California, has announced that its newest Scramble Squares® 9-piece puzzle, "Temple In Paradise", has been named one of "Dr. Toy's 10 Best Socially Responsible Products for 2011" and also among "Dr. Toy's Best 100 Children's Products for 2011" by The Institute for Childhood Resources in San Francisco.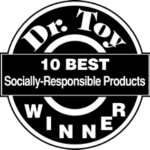 In announcing these awards, noted child development authority, Stevanne Auerbach, Ph.D. (a.k.a. Dr. Toy), Director of The Institute For Childhood Resources, founded in San Francisco in 1975, and a childhood specialist for over 40 years, said, "As a natural, on-going part of our work as parents, teachers, early childhood specialists and others involved with children at home or elsewhere, we observe children at play. With our own eyes we see what works…and what doesn't hold up under tough testing – the normal barrage of active, inquisitive, and resourceful babies, toddlers, preschoolers, and older children. I utilize a complicated set of objective and subjective criteria to evaluate toys and other products. Some questions to ask are:

• Is this product worth the price?
• Does it have lasting play value?
• Is it appropriate?
• Is it fun?
• Does it meet safety standards?

Dr. Toy's Guide (www.drtoy.com) is offered to complement these observations and to help in selecting the right products to enhance play and learning. They stimulate the imagination, engage the player, have value, and hold up over time."
Dr. Auerbach is the only Ph.D. with extensive training, background and over 41 years of experience evaluating, writing and speaking about toys and children's products.
Dr. Auerbach is trained in education, child psychology, child development and special education. She is an educator, consultant, parent and grandparent.
Although each Scramble Squares® puzzle has only nine 4″ x 4″ square pieces, exquisite Scramble Squares® puzzles are Perhaps The World's Most Challenging Puzzle®! At under $10.00 each suggested retail, Scramble Squares® puzzles make inexpensive, but highly valued gifts for both men and women alike. Over 135 exquisite styles of colorful original art are available. Retailers carrying Scramble Squares® puzzles can be found by zip code location on the interactive "Find A Retailer" page of the b. dazzle, inc. web site: http://www.b-dazzle.com Scramble Squares® may also be purchased directly from b. dazzle, inc. either on its web site or by toll free telephone at (800) 809-4242.