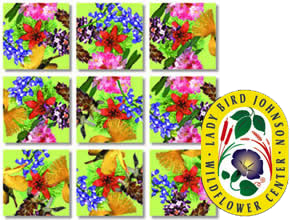 "AMERICAN NATIVE FLOWERS" SCRAMBLE SQUARES® PUZZLE HONORED AMONG" DR. TOY'S 10 BEST SOCIALLY RESPONSIBLE PRODUCTS" FOR 2004 BY THE INSTITUTE FOR CHILDHOOD RESOURCES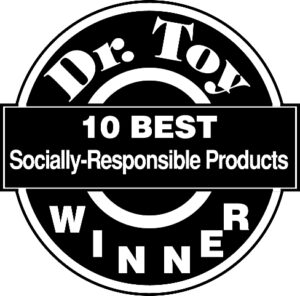 REDONDO BEACH, CA…October 5, 2004… b. dazzle, inc. of Redondo Beach, California, has announced that its "AMERICAN NATIVE FLOWERS" Scramble Squares® 9-piece brain teaser puzzle has been honored by The Institute for Childhood Resources in San Francisco as among "Dr. Toy's 10 BEST SOCIALLY RESPONSIBLE PRODUCTS" FOR 2004." The "AMERICAN NATIVE FLOWERS" Scramble Squares® puzzle was designed by b. dazzle, inc. in collaboration with and in support of the Lady Bird Johnson Wildflower Center in Austin, Texas.
The 13th Annual report of "Dr. Toy's 100 Best Children's Products 2004 awards, announced today, is now available on the Internet's World Wide Web to parents, teachers and others in the magazine, Dr. Toy's Guide. The Web site's address is http://www.drtoy.com. The free report is available by sending a SASE #10 envelope to Dr. Toy and requesting a copy.
"Dr. Toy's 100 Best Children's Products Awards Program 2004" was developed by noted child development authority Stevanne Auerbach, Ph.D. (a.k.a. Dr. Toy) as a service to consumers who desire to purchase safe, affordable, educationally oriented and stimulating toys and products for children.
"As a childhood specialist for over 35 years," says Dr. Toy, Director of the Institute for Childhood Resources, founded in San Francisco in 1975, "I have seen the continuous, essential need for more year round resources for consumers to identify and choose the most appropriate, safe and engaging learning and developmental products for all children."
Dr. Toy reports that in the years the innovative on-line magazine, Dr. Toy's Guide, has been available, "thousands of visitors daily from around the world have accessed its information." The site was the first on-line to evaluate toys and children's products.
The report, "Dr. Toy's 100 Best Children's Products for 2004," is being released, according to Dr. Toy, to, "encourage parents and teachers to focus on the value of play as essential to the learning process."
She adds, "The smart play products selected from 100 companies across the U.S., Canada and from other countries will provide children with exciting new learning tools that will help them not only to do better in school, but will also provide constructive activities to do after school."
The winning products include innovative toys, games, books, videos, audiotapes, software/CD's, crafts, socially responsible and other children's products. Dr. Auerbach believes, "parents and grandparents need help to get a head start locating new, diversified products that children will enjoy using while they increase learning skills, enhance instruction and expand creativity."
Exquisite, award winning Scramble Squares® brain teaser puzzles for ages 4 to 104 are at least as popular with adults, seniors, teenagers and college students as they are with children. Although each Scramble Squares® puzzle has only nine 4" x 4" pieces, Scramble Squares® puzzles are Perhaps the World's Most Challenging Puzzle™! At under $10.00 retail, Scramble Squares® puzzles make inexpensive, but highly entertaining and valued gifts for both men and women alike… for Father's Day, Mother's Day, Easter, Halloween, birthdays, get well, graduation, travel and holidays. Scramble Squares® puzzles are Easy To Play, But Hard To Solve!™ Over 100 exquisite styles of colorful original art are available on nature, sports, history, culture, geography, science, technology, occupations, gourmet, fantasy, hobbies and activities, and more new styles are added every six months. Store displays come complete with the unique Scramble Squares® "5-Minute Challenge™" in store free puzzle giveaway promotion for consumers who solve a Scramble Squares® demonstration puzzle within five minutes!

In 2004, b. dazzle, inc. entered into an agreement with the Lady Bird Johnson Wildflower Center of Austin, Texas, to produce native plant-inspired puzzles. This collaboration has resulted in the "American Native Flowers" Scramble Squares® puzzle, the first in that series being introduced by b. dazzle, inc. The Wildflower Center is working with b. dazzle to develop more Scramble Squares® puzzles based on native plants and wildflowers of North America. Each wildflower puzzle will carry the Center's logo, as well as educational information about the plants depicted and the role they play environmentally.
Mrs. Lyndon B. Johnson and the late actress Helen Hayes founded the Wildflower Center in 1982. With members in the United States and Canada, it is the premier organization in North America dedicated to promoting the importance of native plants in the environment.
Each Scramble Squares® puzzle package includes a panel of fascinating factual information on the subject of the puzzle, as well as a trivia question and hidden answer, all packaged in a unique and handy heavy duty 101/2″ long x 53/4″ wide x 3/8″ deep resealable vinyl travel pouch, which may be collected and stored easily in a standard 3-ring binder. The vinyl pouch is crystal clear, enabling the consumer to see the extraordinary beauty of the puzzles' realistic original art, while achieving a very high amount of retail value per square foot of store space for the merchant.
Scramble Squares® teaches:
o Critical Thinking/Problem Solving Skills
o Patience
o Perseverance
o Statistical Probabilities
o Cooperative and Solitary Productivity

Scramble Squares® also helps maintain mental agility, sharpness and memory in seniors and adults, while providing hours of quiet and stimulating entertainment.
b. dazzle provides a free 24″ x 36″ full color "WIN A FREE PUZZLE" promotional poster to any store offering its customers the Scramble Squares® "5–MINUTE CHALLENGE™." Retailers can give a free Scramble Squares® puzzle to any customer who accepts the challenge and successfully solves the nine piece Scramble Squares® demonstration puzzle within five minutes. b. dazzle promptly replaces the stores' puzzles awarded to consumers at no cost to the merchants. b. dazzle's permanent wood counter, floor and slat wall displays each feature a demonstration puzzle on an interactive playing surface with an electronic timer to time consumers in the 5–MINUTE CHALLENGE™. b. dazzle also offers a free, very compact, corrugated counter spinner display, including the timer and poster, with the purchase of any 72 Scramble Squares® puzzles in any quantity per style.
"We are very pleased, honored and extremely gratified that our newest Scramble Squares® puzzles have maintained the very high standards that Dr. Toy upholds as her criteria for the annual "DR. TOY'S 100 BEST PRODUCTS" awards," says b. dazzle founder, puzzle designer, president & CEO, Kathie Gavin. "Dr. Toy's 100 Best Children's Products" Awards Program is the standard by which we measure our design and production success. We are proud to have again achieved that success," Gavin adds.