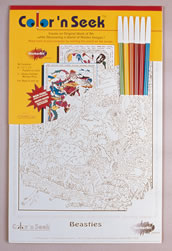 CREATIVE CHILD MAGAZINE HONORS COLOR 'n SEEK ART ACTIVITIES

REDONDO BEACH, CA…November 5, 2003… b. dazzle, inc. of Redondo Beach, California,has announced that Creative Child Magazine, a magazine focused on nurturing creativity in children, has awarded b. dazzle's Color 'n Seek™ hidden pictures coloring activities the Creative Child Magazine "Seal of Excellence Award" for 2003.
Creative Child Magazine is a bi-monthly publication that provides parents with the latest information on how to nurture their child's creativity. With departments such as "Kids at Play," "Health and Safety," "Discovering Creativity," "Nurturing Talent" and "Tomorrow's Child – Investing for Your Child's Future," Creative Child Magazine is the most complete parenting publication for raising well-balanced children. Creative Child Magazine began in 1998 as a regional parenting publication in southern California. This month the publication expanded to a national audience and will be available at major retail stores and newsstands throughout the United States.
Color 'n Seek™ from b.dazzle, inc. is the only poster art available with hidden pictures and educational word association. Children from 4 years old to adults will be fascinated for hours by the challenge of coloring the Color 'n Seek™ posters' pictures and seeking the images hidden within each poster's overall design. The Color 'n Seek™ Portfolio Gift Set is a value unmatched in the craft & hobby market, with six 11″ x 17″ 100 lb. paper stock posters and six markers for only $8.95 suggested retail! Fourteen styles of hidden picture posters are available in 2-poster flat-pack sets with eight non-toxic, water soluble marker pens per set, for a suggested retail price of only $6.95. 2-2-2/ COLOR' N SEEK™ HIDDEN PICTURES COLORING ACTIVITIES
Color 'n Seek™ encourages confidence building, positive reinforcement and personal recognition among market artists by encouraging them to "keep score" of their coloring and seeking achievements by coloring in the corresponding words on the poster's border that describe the images hidden within the poster's overall design.Color 'n Seek™ teaches concept recognition and association, personal resourcefulness,spelling, design form and color coordination…all at very affordable prices.b. dazzle, inc. is also the manufacturer of the enormously popular ScrambleSquares® brainteaser puzzles for ages 4 to 104, which are as popular with adults, seniors,teenagers and college students as they are with children. Although each ScrambleSquares® puzzle has only nine 4" x 4" pieces, Scramble Squares® puzzles are Perhaps the World's Most Challenging Puzzle™!
"Our company's mission is to produce a wide range of beautiful, wholesome, entertaining and informative gifts for under $10.00 retail for all ages of adults and children that can be selected by style to appeal to the personal interests of the recipient," says b. dazzle founder, graphic designer, president & CEO, Kathie Gavin.