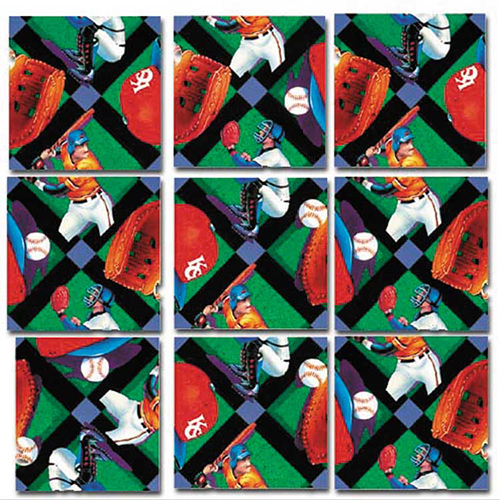 FOUR SCRAMBLE SQUARES® 9-PIECE PUZZLES RECEIVE "DR. TOY'S BEST CLASSIC TOYS FOR 2009" AWARD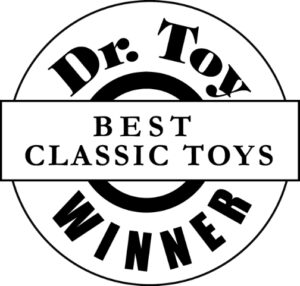 REDONDO BEACH, CA…April 28, 2009… b. dazzle, inc. of Redondo Beach, California, has announced that fourof its Scramble Squares® 9-piece educational brain teaser puzzles for all ages have been honored by The Institute for Childhood Resources in San Francisco as among only twenty-nine (29) products selected as "Dr. Toy's Best Classic Toys for 2009." The four honored Scramble Square® puzzles include the very first Scramble Squares® puzzle, "Baseball," introduced in January, 1994; "Dolphins," introduced in 1995; "Puppies," introduced in 1996; and "Frogs," introduced by b. dazzle, inc. in 1998.
The Institute for Childhood Resources' Director,Stevanne Auerbach, Ph.D., known throughout the toy industry as Dr. Toy, has been tracking trends in the toy business for more than 30 years. In her just released Dr. Toy's Best Classic Products for 2009, she has searched across the entire toy industry for the great classic toys that fit the criteria for fun and "high play value." Dr. Toy says, "Classic toys are enduring and have many important benefits. They encourage the child's interaction, involvement and are truly child-powered." A wide variety of selections are included among this year's twenty-nine winners. The list reflects toys that Dr. Toy says "are perfect for all ages and interests from baby to older children, teens and adults; from low to high tech; and from nature to nurture."
The following is Dr. Toy's evaluation of b. dazzle, inc. Scramble Squares® 9-Piece Puzzles: 
"Adults and seniors love these made-in-America Scramble Squares® puzzles as much as children, teenagers and college students. Although each Scramble Squares® puzzle has only nine 4″ x 4″ square pieces, Scramble Squares® puzzles are Perhaps the World's Most Challenging Puzzle®!  At under $10.00 each, they make perfect gifts that are not only inexpensive, but highly valued.  Consider giving the puzzles for birthdays, graduation, travel, Get Well, Easter and for any holiday.  Scramble Squares® puzzles teach patience, perseverance, fine motor and critical thinking skills, and help maintain mental agility while providing stimulating entertainment as either a solitaire game or a cooperative activity. Each puzzle package includes an interpretive panel of fascinating facts on the subject of the puzzle, as well as a trivia question and hidden answer. Each puzzle is packaged in a unique and handy resealable heavy duty 10-1/2" long x 5-3/4" wide x 3/8" deep vinyl travel pouch, which can be stored easily in a standard 3-ring binder. Scramble Squares® puzzles are highly rated by the Ableplay.org web site of the Lekotek National Center in Chicago, which ranks products that are beneficial to the learning disabled."
"You can count on classic toys," says Dr. Toy. "These are the long lasting toys that 'keep on playing long after the batteries and latest fads are gone." Where do you turn for a selection that provides a timeless, fun experience that will hold a child's interest? Dr. Toy advises "Look for toys that have remained valued playthings since they were firstintroduced ten or more years ago. These are the lasting favorites of all childrenwho have played with them."
Dr. Toy carefully surveys the toy marketplace year round to select a wide-range of great classic toys. While she keeps abreast of new products, Dr. Toy keeps her eye on theenduring and endearing qualities of the toys of yesteryear. The classic toys she has selected as winners have been available for ten, fifty, or a hundred years or more."A classic toy is simple to enjoy, has a lot of play value, and has been tested over many years,"Dr. Toy explains. "There are many other aspects of a classic toy that remain of value," she continues *Durability. Simplicity in style and 'star qualities' make them all-time favorites. Some examples are: checkers, chess, hula-hoops, kites, marbles and Yo Yo's.
*Consistency. The consistent toy that is simple in shape and responds based on what the child does with it. These toys give children a feeling of accomplishment because the more they practice with them, the better they become. For example, the more a child practices with a Yo Yo the better he or she can become at doing tricks. This practice provides eye/hand coordination and dexterity, and all along each step of the way the rewards are satisfying.
*Creativity. By expanding their own imagination, children are encouraged to experiment using classic toys. Think about how children use a puppet. Children use their own language, their own artistic expression, and they can explore without limit to achieve their own goals. The puppet forms the object that encourages their language development. It helps the child spontaneously stimulate the language of play at theright moment."
Among the "Dr. Toy's Best Classic Toys for 2009" are products that are consistent, creative, and as much fun as ever, or improved in some tangible way to make the play value even greater. "When you look carefully at this year's winners, Dr. Toy states, "you see the best examples of Classic Toys. Children will love the classic style of the Fisher-Price, Little People 50th Birthday Play 'n Go Farm™, LEGO Systems Brickbeard's Bounty, Schylling's Children's Tin Tea Set. He or she will enjoy learning how to solve
b. dazzle's amazing Scramble Squares ® 9-piece themed puzzles of Dolphins, Frogs, Puppies and/or Baseball; learning the amazing games offered by Pressman's Mastermind or Family Pastime's Max; or learning new tricks with Duncan Toy's Duncan® Butterfly Yo-Yo. Your child will delight in activity with the Green Toy Company's Green Toys ™ jump rope; Wham-O's Hula Hoop or Hackey Sack; or your child will be involved in hours of active imaginative play with Little Tikes' Cozy Coupe; Automoblox's Automoblox T9-SE; Carrera's slot racing cars set based on Spider-Man; and ALEX's Lemonade Stand and picnic basket. Children will value the creative and educational experience offered by Figures in Motion's Famous Figures of Ancient Times: Movable Paper Figures to Cut, Color and Assemble, and the amazing natural collections found in the World Discovery Box's Discovery Box. They will always enjoy creativity with Crayola's Model Magic Deluxe Craft and the 64 Ct Crayons with Built-In Sharpener; and For My Kids' Happy Fun Dough, or creatively personalizing Color Me House's Color Me House, building with the K'NEX's 400-Piece Value Tub, and role playing with Heavenly Hugs Doll's Heavenly Hug, Wild Republic's Hanging Monkey,ALEX's Crafty Fashion Show, and Adorable Originals', Adorable Girl® Doll and more!
These toys have truly met the 'test of time.' They have endured, entertained, and satisfied children for many years, and will continue to do so for many years to come."
The winners of the annual classic toy search are included in Dr. Toy'sBest Classic Toys for 2009, available now on the free, popular, accessible web-site that presents her award selections for parents and teachers to benefit children. Dr. Toy's Guide, http://www.drtoy.com, provides all pertinent information and includes photos, complete product descriptions, links to company sites, and consumer information. Dr. Auerbach's earlier book, Toys for a Lifetime: Enhancing Childhood Through Play (Rizzoli), provides a close up of over 60 classic toys that you enjoyed. She is also the author of Dr. Toy's Smart Play/Smart Toys: How to Raise a Child with a High P.Q. (St Martins Press, 1999, Educational Insights, 2004, and ICR, 2006).
Dr. Toy really appreciates and values classic toys. "You easily share in the good feeling of nostalgia and enjoyment that is connected to toys that bring back special memories of goodtimes playing with others," she says. "Have you noticed many of the toys that you played with as a child are still available to share with your children (or grandchildren)? Those childhood classics have lasted over generations to continue to bring joy. The joy of sharing a toy with your child that you play with is a special treat for you and for your child. Also, many adults collect toys as a fun hobby. Besides, adults need more time to play for emotional and physical benefits." "More playtime for all!" is Dr. Toy's Rx forchildren and for adults. We applaud the longevity of classic toys and hope that many new generations of children will continue to enjoy the classic toys we have selected as best for this year."
"We are very pleased, honored and extremely gratified that over the 15 years that we have produced Scramble Squares® puzzles, our Scramble Squares® puzzles have maintained the very high standards that Dr. Toy upholds as her criteria for "Dr. Toy's Best Classic Toys" awards," says b. dazzle founder, puzzle designer, president & CEO, Kathie Gavin.
Founded in 1993, b. dazzle, inc. is a progressive market-driven company which manufacturers and distributes wholesale in the gift, souvenir, toy and educational products industries a wide range of beautiful, wholesome, entertaining and informative gifts of high quality and low cost for all ages of adults and children that can be selected by style to appeal to the personal interests of the recipient and can be enjoyed as cross generational family activities.
b. dazzle, inc. is an official member of the CHARACTER COUNTS! Coalition of the Josephson Institute of Ethics in Los Angeles:  http://www.charactercounts.org (800-711-2670; 310-846-4800). 
The purpose of the CHARACTER COUNTS! Coalition is to fortify the lives of America's young people with consensus ethical values called the "Six Pillars of Character." These six key character values, which transcend divisions of race, creed, politics, gender and wealth, are trustworthiness, respect, responsibility, fairness, caring and citizenship. Because our society places such a high value onmaterial success, there is the tendency in human nature to pursue success by material success, there is the tendency in human nature to pursue success by any means, whether fairly or unfairly, honestly or dishonestly. We strongly believe that with oursuccess comes a duty for us to contribute to our society. We wish to do so by advancing the principles of good character and ethical behavior, not only by operating our business in accordance with ethical standards, but also by advancing and promoting the importance of ethical business practices and ethical behavior throughout our industry and our society at large. The "CHARACTER COUNTS!" Coalition has become the nation's leading character education system, now reaching five million youngsters through a widespread partnership of schools and youth-serving organizations. Two United States' Presidents, the Congress, most states and countless municipalities have endorsed the Coalition's approach and declared the third week in October "National CHARACTER COUNTS! Week."