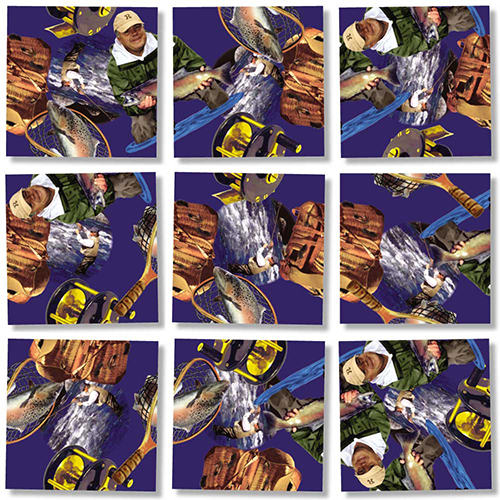 "FLY FISHING" SCRAMBLE SQUARES® PUZZLE, Item #10104
Celebrate nature, recreation and skill with a Scramble Squares® "Fly Fishing" puzzle that might be as cunning as the trout whose challenging pursuit can now be enjoyed in a living room! b. dazzle, inc.'s 9-piece puzzle is one of four Scramble Squares® puzzles awarded "Dr. Toy's Best Vacation Children's Products for 2006" by the Institute for Childhood Resources.
FOUR SCRAMBLE SQUARES® PUZZLES AWARDED "DR. TOY'S "BEST VACATION CHILDREN'S PRODUCTS 2006" BY THE INSTITUTE FOR CHILDHOOD RESOURCES
REDONDO BEACH, CA…June 7, 2006… b. dazzle, inc. of Redondo Beach, California, has announced that four of its Scramble Squares® 9-piece brain teaser puzzles have been honored by The Institute for Childhood Resources in San Francisco as "Dr. Toy's BEST VACATION Children's Products 2006." The five Scramble Squares® puzzles receiving this prestigious award are "Covered Bridges," "Fly Fishing," "Outer Banks Lighthouses" and "San Antonio."
Dr. Toy's perfect solution to summertime doldrums is instantly available on the Worldwide Internet (http://www.drtoy.com) and by mail. Parents can request Dr. Toy's 2005 list of new, developmentally appropriate and fun products that develop active, creative and educational skills by writing to

Dr. Toy at the Institute for Childhood Resources
268 Bush Street, San Francisco, CA 94104

and including a #10 SASE (self addressed stamped envelope).

Stevanne Auerbach, Ph.D. (aka "Dr. Toy"), childhood development specialist, cautions, "Parents must plan prepare and shop ahead for their children's leisure time. These great products will help all parents to overcome the challenge of finding innovative, fun and interesting things for their kids to do," says Dr. Toy. Dr. Toy's selections help parents offer a healthy balance of positive activities for travel, skill building, physical development, hobbies, crafts and year-round creativity. Dr. Toy's report reduces the time that it takes to locate new developmental and innovative products designed to help children be happy and productive.
Dr. Toy searches for products that meet the following criteria:
(1) Safe
(2) Well-designed
(3) Skill building
(4) Challenging
(5) Reasonable cost
(6) Fun!
Exquisite, award winning Scramble Squares® brain teaser puzzles for ages 4 to 104 are at least as popular with adults, seniors, teenagers and college students as they are with children. Each puzzle comes packaged in a unique, heavy duty, light weight and compact (101/2″ long x 53/4″ wide x 3/8″ deep) resealable vinyl travel pouch, which keeps the puzzle pieces from becoming lost or soiled. Each Scramble Squares® puzzle package includes a panel of fascinating factual information on the subject of the puzzle, as well as a trivia question and hidden answer, providing significant added value and educational stimulation.
Scramble Squares® teaches:
o Critical Thinking/Problem Solving Skills
o Patience
o Perseverance
o Statistical Probabilities
o Cooperative and Solitary Productivity
Scramble Squares® also helps maintain mental agility, sharpness and memory in seniors and adults, while providing hours of quiet and stimulating entertainment.

Although each Scramble Squares® puzzle has only nine 4" x 4" pieces, Scramble Squares® puzzles are Perhaps the World's Most Challenging Puzzle™! At under $10.00 retail, Scramble Squares® puzzles make inexpensive, but highly entertaining and valued gifts for both men and women alike… for Father's Day, Mother's Day, Easter, Halloween, birthdays, get well, graduation, travel and holidays. Scramble Squares® puzzles are Easy To Play, But Hard To Solve!™ Over 100 exquisite styles of colorful original art are available on nature, sports, history, culture, geography, science, technology, occupations, fantasy, hobbies and activities, and more new styles are added every six months. Store displays come complete with the unique Scramble Squares® "5–MINUTE CHALLENGE™" in-store free puzzle giveaway promotion for consumers who solve a Scramble Squares® demonstration puzzle within five minutes!
"Our company's mission is to produce a wide range of beautiful, wholesome, entertaining and informative gifts for under $10.00 retail for all ages of adults and children that can be selected by style to appeal to the personal interests of the recipient ," says b. dazzle founder, puzzle designer, president & CEO, Kathie Gavin. "We are thrilled by the recognition of our efforts that has been bestowed upon us by Dr. Toy," Gavin adds.
b. dazzle, inc. is an Official Member of the "CHARACTER COUNTS!" COALITION of the Josephson Institute of Ethics in Los Angeles: http://www.charactercounts.org (800-711-2670; 310-846-4800). The purpose of the "CHARACTER COUNTS!" Coalition is to fortify the lives of America's young people with consensus ethical values called the "Six Pillars of Character." These six key character values, which transcend divisions of race, creed, politics, gender and wealth, are trustworthiness, respect, responsibility, fairness, caring and citizenship. Because our society places such a high value on material success, there is the tendency in human nature to pursue success by any means, whether fairly or unfairly, honestly or dishonestly. Kathie Gavin explains, "We strongly believe that with our success comes a duty for us to contribute to our society. We wish to do so by advancing the principles of good character and ethical behavior, not only by operating our business in accordance with ethical standards, but also by advancing and promoting the importance of ethical business practices and ethical behavior throughout our industry and our society at large."

The "CHARACTER COUNTS!" Coalition has become the nation's leading character education system, now reaching five million youngsters through a widespread partnership of schools and youth-serving organizations. Two United States' Presidents, the Congress, most states and countless municipalities have endorsed the Coalition's approach and declared the third week in October "National CHARACTER COUNTS! Week."