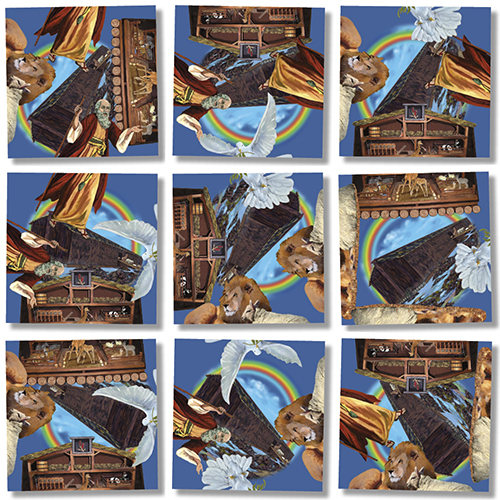 SIX SCRAMBLE SQUARES PUZZLES WIN PRESITIGIOUS NAPPA HONORS FOR 2007

REDONDO BEACH, CA…September 26, 2007… b. dazzle, inc. of Redondo Beach, California, has announced that the National Parenting Publications Awards (NAPPA), a program sponsored by DominionMedia and promoted in association with parenting publishers across the United States, has named six Scramble Squares® 9-piece brain teaser puzzles as 2007NAPPA HONOR AWARD winners: Noah's Ark, Pirates, Planets, Puffins, Swimming Champions and Teachers.
Full NAPPA AWARDS results will be announced Nov. 1, 2007, in 40 regional parenting magazines across the country and online at Parenthood.com. This distinction recognizes Scramble Squares® 9-piece puzzles as a standout among toys, books, DVDs, software & video games, music and spoken-word recordings available for children today.
Now in its 17th year, NAPPA is a well-known name in industries that are focused on children's learning and entertainment. Parents, relatives and other adults working with children — those who want high-quality toys and products that provide "smart fun" and good design, and grow with children's developmental needs – rely on NAPPA for their holiday and year-round gift-giving.
"NAPPA-winning products meet the most stringent criteria and are judged by nationally recognized industry experts, educators, reviewers and advocates in their fields," says NAPPA Manager Barbara Smith Decker. "NAPPA has set the industry standard of excellence for nearly two decades and the award is a much-sought honor by manufacturers, artists, authors and product designers. When parents see the NAPPA Gold or Honors seal on winning products, they're assured of a high quality, fun and educational experience for their children." Ellen Metrick, lead judge for the NAPPA Toy & Games category in which Scramble Squares® puzzles won six Honors awards this year, has more than 20 years' experience in the toy industry. As the toy specialist and manager of business development for the National Lekotek Center, a nonprofit organization that focuses on accessible play for children of all abilities, Metrick helps manufacturers develop and evaluate high-quality toys. In evaluating the six Scramble Squares® NAPPA Honors winners for 2007, Metrick wrote, "Match the pictures along the edges of nine individual squares in each direction to complete a tabletop puzzle. Starting with a winning concept, new themes added to this collection include Pirates, Planets, Puffins, Swimming Champions, Teachers and Noah's Ark (each sold separately). All puzzles are equally beautiful, equally challenging and equally deserving of an honor award."
Exquisite, award winning Scramble Squares® brain teaser puzzles for ages 4 to 104 are at least as popular with adults, seniors, teenagers and college students as they are with children. Although each Scramble Squares® puzzle has only nine 4" x 4" pieces, Scramble Squares® puzzles are Perhaps the World's Most Challenging Puzzle®! At under $10.00 retail, Scramble Squares® puzzles make inexpensive, but highly entertaining and valued gifts for both men and women alike… for Father's Day, Mother's Day, Easter, Halloween, birthdays, get well, graduation, travel and holidays. Scramble Squares® puzzles are Easy To Play, But Hard To Solve!® Over 120 exquisite styles of colorful original art are available on nature, sports, history, culture, geography, science, technology, occupations, fantasy, hobbies and activities, and more new styles are added every six months. Store displays come complete with the unique Scramble Squares® "5-MINUTE CHALLENGE®" in-store free puzzle giveaway promotion for consumers who solve a Scramble Squares® demonstration puzzle within five minutes! Current Scramble Squares® puzzle topic categories include nature, sports, history, culture, geography, science, technology, occupations, fantasy, gourmet, hobbies and activities. New styles are added throughout each year. The suggested retail price for a Scramble Squares® puzzle is $8.95 each.
Each Scramble Squares® puzzle package includes a panel of fascinating facts on the subject of the puzzle, as well as a trivia question and a hidden answer to that trivia question, all packaged in a unique and handy heavy duty 101/2″ long x 53/4″ wide x 3/8″deep resealable vinyl travel pouch, which may be collected and stored easily in a standard 3-ring binder. The vinyl pouch is crystal clear, enabling the consumer to see the extraordinary beauty of the puzzles' realistic original art, while achieving a very high amount of retail value per square foot of store space for the merchant.
Scramble Squares® teaches:
o Critical Thinking/Problem Solving Skills
o Fine Motor Skills
o Patience
o Perseverance
o Statistical Probabilities
o Cooperative and Solitary Productivity
Scramble Squares® also helps maintain mental agility, sharpness and memory in seniors and adults, while providing hours of quiet and stimulating entertainment.
The National Parenting Publications Awards were created in 1990 to review children's products. It has since expanded into two divisions:
o Children's Products – Toys & Games, Music, DVDs, Books & Magazines, Storytelling & Spoken-Word Recordings, Software, Video Games and Websites.
o Parenting Resources – How-to Books, DVDs and Websites; Maternity and Baby
Gear, Accessories, Gadgets and Products that make parenting easier.
NAPPA is recognized for its service to parents, having won the Parenting Publications of America's Gold Award for Editorial Excellence. NAPPA is a program administered by Dominion Media, a division of Dominion Enterprises, and promoted in association with parenting publications across the United States and on the web at Parenthood.com.
Founded in 1993, b. dazzle, inc. is a progressive market-driven company which manufacturers and distributes wholesale in the gift, souvenir, toy and educational products industries a wide range of beautiful, wholesome, entertaining and informative gifts of high quality and low cost for all ages of adults and children that can be selected by style to appeal to the personal interests of the recipient and can be enjoyed as family activities. b. dazzle, inc. is an Official Member of the "CHARACTER COUNTS!" COALITION of the Josephson Institute of Ethics in Los Angeles: http://www.charactercounts.org (800-711-2670; 310-846-4800). The purpose of the "CHARACTER COUNTS!" Coalition is to fortify the lives of America's young people with consensus ethical values called the "Six Pillars of Character." These six key character values, which transcend divisions of race, creed, politics, gender and wealth, are trustworthiness, respect, responsibility, fairness, caring and citizenship. Because our society places such a high value on material success, there is the tendency in human nature to pursue success by any means, whether fairly or unfairly, honestly or dishonestly. Kathie Gavin explains, "We strongly believe that with our success comes a duty for us to contribute to our society. We wish to do so by advancing the principles of good character and ethical behavior, not only by operating our business in accordance with ethical standards, but also by advancing and promoting the importance of ethical business practices and ethical behavior throughout our industry and our society at large." The "CHARACTER COUNTS!" Coalition has become the nation's leading character education system, now reaching five million youngsters through a widespread partnership of schools and youth-serving organizations. Two United States' Presidents, the Congress, most states and countless municipalities have endorsed the Coalition's approach and declared the third week in October "National CHARACTER COUNTS! Week."